This forum is to be used ONLY for topics regarding BattleGroup42 and Battlefield 1942, the game it is based on. It is not intended for advertising other mods, games or any kind of commercial stuff. All posts and topics not related to the mod or Battlefield 1942 (only the main game and its official expansions) will be deleted without prior notice. We also won't tolerate any kind of racist, religious or political statements.
---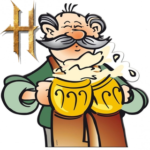 Joined: Aug 1, 2018
Last seen: May 21, 2022
RE: Gunsmoke's BG42 Fin RC4 P1
I just take the opportunity and say Hello. Hello 🙂 .... it really 18 years ? Wow time runs 🤣. But still i remember so much good Evenings with the G...
3 years ago